Driveway Cleaning Croydon
Residents and business owners in Croydon know they can count on Ultra Power for clean, vibrant surfaces. One of our most requested services is our driveway restoration. So if you are a homeowner in Croydon and want your driveway to look new again, we encourage you to give us a call.
Since 1957, Ultra Power has been London and Kent's trusted source for jet washing. Today, we have expanded our services to cover Croydon and beyond. So if you're ready to experience the difference we can make on your driveway, please get in touch with us.
Driveway Cleaning and More
Although our driveway cleaning service is one of our most popular requests, we also clean many other types of surfaces. Browse our additional services below and contact us with your requests.
Conservatory floors
Garden furniture
Graffiti removal
Pool surrounds
Garden paths
Brickwork
Driveway
Fencing
Paving
Gates
Here at Ultra Power, we take great care to ensure that we utilise the right amount of pressure when cleaning various surfaces types. Since we can adjust how much pressure is behind our jet washing service, we can successfully clean even delicate surfaces.
With every new surface type, we carefully examine your surfaces first and test a small area to ensure we're using the proper pressure.
So don't hesitate to contact us with all of your jet washing needs. Our service technicians are fully trained and experienced to ensure the most suitable approach to the surfaces around your home or business.

What Exactly Is Driveway Cleaning?
Driveway cleaning is the process of using powerful pressure washing to thoroughly clean the area where your vehicles park. It's a pretty extensive process, which is why most homeowners prefer to leave it in the hands of professionals.
At Ultra Power, the goal of our cleaning services is to remove dirt and debris that has accumulated over time and to remove any stains or marks on the concrete. Our powerful 3600 psi pressure cleaner is capable of removing even the most stubborn blemishes from your driveway.
What's more, our machines come equipped with a 1,000-litre bowser, ensuring that we have plenty of water to vacate your driveway of all accumulation. That's right; we supply the water and electricity to help keep your costs low. When combined with our assortment of specialty attachments, dirt and build-up don't stand a chance.
Benefits of Regular Driveway Cleaning
There are a number of benefits to having your driveway cleaned on a regular basis by our expert service technicians. If you're not sure how often you should have us come out to your Croydon residence to clean your driveway, we are more than happy to provide you with a recommendation during our initial visit. In the meantime, let's discuss some of the leading benefits of our service:
Clean Looking Driveway: The first and foremost benefit of driveway cleaning is that it will keep your driveway looking pristine. This is because the driveway is now being cleaned with a commercial-grade machine that can easily eliminate all of the dirt, dust, debris, grease and oil that find their way onto such surfaces.
Increased Property Value: Another benefit of regularly keeping your driveway clean is that it will increase the value of your property. This is because a clean driveway will attract buyers who are looking for a nice, neat house. A home with an ugly, messy, unkempt driveway could potentially lower its value.
Lower Expense: One of the many downsides to trying to clean your driveway on your own is the expense. You're sure to spend a lot on chemicals, tools, and various equipment, as there aren't any cleaning solutions on the market that can match the effectiveness of our pressure cleaners.
As such, you're bound to spend more than necessary just to achieve a fraction of the results that we get. When you choose Ultra Power for your driveway cleaning needs, you can look forward to spending less overall—and who doesn't love to save money?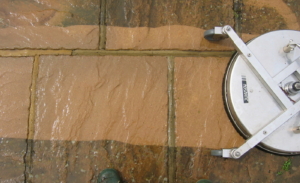 Comprehensive Driveway Cleaning in Croydon
As a resident in Croydon, you want your home to look its best at all times. But no matter how much effort you put into making your home look attractive, a dirty driveway will detract from your hard work. Thankfully, you don't have to look at your dingy driveway any longer.
At Ultra Power, we will use our skill and experience to breathe new life into your driveway and make it look as bright and clean as when it was brand new.
So if you are ready to experience the power of our jet washing service, we invite you to call us on 01689 857 932 or 0207 821 1221. We will be happy to schedule a consultation to discuss your options. Alternatively, you can always fill out our contact form, and we will promptly get in touch with you.