Driveway Jet Wash Cleaning in Dunton Green 
It's common for driveways to become unsightly over time due to pesky weeds, discolouration and dirt and grime. Unfortunately, traditional cleaning methods like scrubbing won't remove all the dirt and growth.
That's why you should contact Ultra Power Pressure Washing. Our pressure-washing service will thoroughly wash away all the dirt on your driveway, leaving you with spotless results.
We are proud to have served Dunton Green and surrounding areas for 55 years. Our time in this industry has given us the experience and knowledge to clean driveways, patios, sides and other concrete surfaces on your property.

Our Cutting-Edge Equipment
Our professional cleaners are able to deliver excellent service due to our cutting-edge technology. We employ high-grade pressure washers that are the best in the business. These powerful tools work at 3600 psi with an automatic chemical feed and a bowser which carries 1000 litres of water.
The advanced features of our power washers set us apart from traditional driveway cleaning. That's because our powerful jets have the ability to break down dirt, discolouration and growths on any solid or concrete surface.
Benefits of Pressure Washing Your Driveway
Your driveway is the most noticeable aspect of your home's exterior. It's the first thing people see when they enter your property. A dirty driveway doesn't leave a great impression, so it's important that you keep it clean. Once you opt for pressure washing, your driveway will look fantastic and it will enhance the exterior of your home.
Moreover, pressure washing your driveway increases your home's kerb appeal, which can increase the value of your property by 10%. This is because the brickwork will look brand-new thanks to our pressure washing.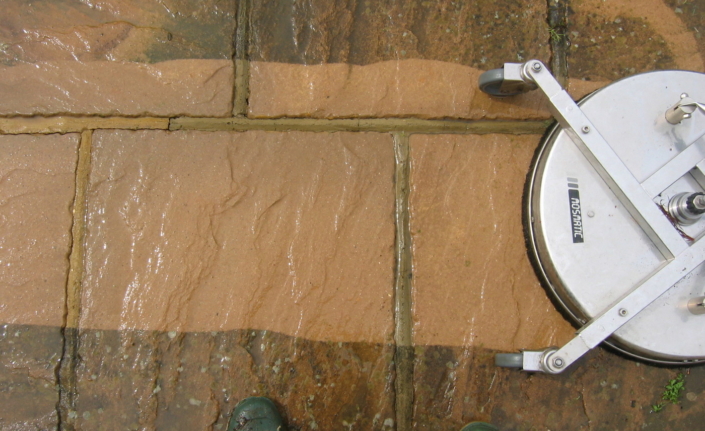 Contact Us Today
You will be amazed to see your driveway restored and looking new. You might even be surprised by its true colour! No matter how dirty or discoloured your driveway is, our technicians will clean it.
If you're in Dunton Green and you would like your driveway cleaned, contact our specialised technicians today