Patio & Driveway Jet Wash Cleaning in Petts Wood
Jet wash cleaning is a time-saving and hassle-free way to keep the entrance of any property looking great throughout the season. Powerful machines provide a thorough and deep clean, without leaving messy spray marks and stains on surfaces.
One cleaning session is enough to brighten any outdoor space, giving it a fresh new look. Driveways, patios and gardens are the entrances to your property, and they look unsightly if covered in dirt. If you are looking for a company to give the front of your property a makeover, then Ultra Power Cleaning is the team to call.
Why Use Ultra Power Cleaning in Petts Wood?
Property owners in Petts Wood and elsewhere in Kent and London can rely on us to transform their space into a place that befits a beautiful suburban neighbourhood. If before, you simply let guests quickly pass through your entrance, after we have completed our jet wash cleaning job, you will be able to proudly show off your outdoor space.
Here at Ultra Power Cleaning, we have a team of highly skilled cleaning technicians. Our business benefits from almost six decades of experience, and we are proud to say that, throughout the years, we have been able to build trusting relationships with our customers. Many of our satisfied clients come back to us and recommend us to their friends.

With experience and expertise to back our services, you can expect the result of each cleaning job to be fantastic. Apart from assuring you of great results, you can also have peace of mind that our team will turn up on time, finish on schedule and will not surprise you with hidden fees.
We are well-prepared for any undertaking, bringing our own water and power supply to accomplish the task at hand, so you do not have to worry about a jump in your utility bills.
Why Choose Our Pressure Washing Service
When it comes to cleaning your patio, there are different ways to go about it, like sweeping or scrubbing. However, pressure washing offers advantages that you can't find anywhere else:
Effective Cleaning: Our pressure washers are designed to efficiently blast away the dirt and grime on your patio. These strong jets tackle tough stains, removing deeply embedded dirt and marks.
Quick and Efficient: The high-pressure water stream covers a large area fast, which means we can clean your patio much quicker than if you were to scrub it manually.
Mould and Mildew Removal: Over time, patios, especially those in damp or shaded spots, can develop mould and mildew. Pressure washing is great at removing these growths, making your patio look better and creating a healthier outdoor space.
Eco-Friendly: We take pride in our eco-friendly approach to patio cleaning. Our pressure washing service mainly uses water, which is a greener option than harsh chemicals.
Prep for Maintenance: Pressure washing gets your patio surface ready for potential maintenance, like sealing or staining. By clearing away dirt and debris, the surface becomes more responsive to treatments that enhance its appearance and durability.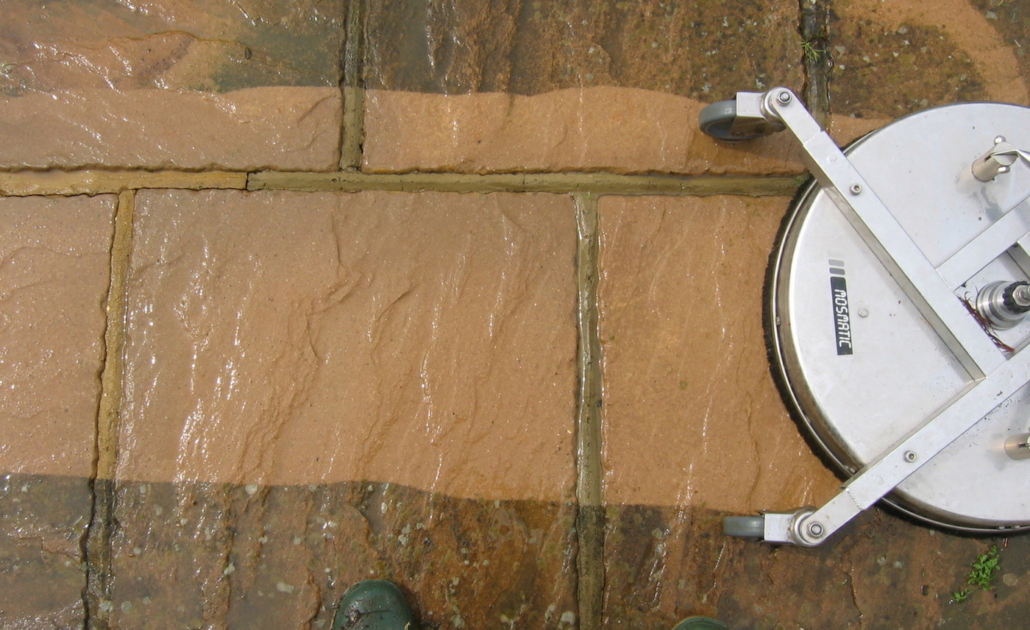 Our State-of-the-Art Gear
What sets us apart as a premier jet washing service in Pett's Wood is our advanced technology. Our jet washers operate at an impressive 3600 psi and have a capacity of up to 1000 litres of water. Additionally, we come equipped with an extra 3000 litres of water, ensuring that we don't need to use your electricity or tap into your water supply during the job.
This commitment to cutting-edge equipment makes Ultra Power Pressure Washing the go-to solution for patio and driveway cleaning. The power of our jet washers, operating at 3600 psi, ensures that even the toughest grime and stains are no match for us. This means that your outdoor spaces will not only look pristine but will also be restored to their original condition.
The Name to Trust for Jet Wash Cleaning
Ultra Power Cleaning is the name you can trust for reliable and hassle-free jet wash cleaning services. Apart from driveway, patio and entrance cleaning, we also offer garden paths and furniture, as well as carpet cleaning, among others. Learn more about our services by browsing through our website, or talk to our team today.
Make Your Driveway & Patio Look Brand New Again!
We bring our own water, so that you don't get charged with a big water bill!
We use a petrol-powered generator so that you don't incur electricity costs!
"Good Morning Bob,
The committee actually got us to wash one of the pathways to compare the difference, but there was no comparison. (Our efforts) has left tram lines everywhere, so being armed with this information now we think we will be getting the go-ahead, but just not sure when. There is no way we can compete with the job you did for us."
"Just to thank you for doing such a good job pressure washing our patio. I appreciated your attention to detail and the way you kept us informed each step of the way. You were mindful of not using our water, we are on a meter, and your truck is equipped with a 1000 litre water tank so we didn't occur the cost of water. Also, your machines are powered by petrol so not using our electric. Thank you. I recommended you to a friend who lives in Keston Park, she has a huge driveway and rear patio, even she received the same attention to detail that was afforded to us. Both of us will be back next spring."
"This is a five star company, I can't recommend highly enough. A brilliant job under Bob's watchful eye. The patio looks like new. From first contact with Sherry in the office to the finish, they were a pleasure to deal with. Thank you once again for a great job and fantastic result!"
"Bob and his team did a fantastic job in jet washing multiple patio areas. They were really professional, friendly and extremely helpful in trying to get white paint of bricked areas where we didn't want it to be. They were also very reasonable with their pricing. I would definitely recommend them to anyone else who wants jet washing."
"We have used this company to jet wash our playground for several years, we would highly recommend them. They are very professional and do a super job. The playgrounds look good as new. We will definitely be using them again next year."
"I have a block paved driveway which does require an annual pressure wash. Fortunately, Bob will send a reminder a couple of months before its due and book me into his busy schedule. The pressure washing team under Bob's direction do an excellent job of cleaning. They are efficient, punctual and leave the area very clean. I cannot praise them enough"
"I have used Bob and his team two years running now and have been extremely happy with all aspects of the service. I had my front driveway and rear patios jet washed. Communication with Bob is very simple via phone and email. The team are reliable, courteous, listen to requests and very obliging in moving pots and patio furniture, and importantly, putting things back in the same place they moved them from for access and cleaning purposes.
Several of my neighbours have seen what Bob has done for me and utilised his services as well.
I have no hesitation in recommending Bob and his Team."
"As I am sure you remember, you came highly recommended to me by a friend. You and your team cleaned my patio and down the side of my house. I was absolutely delighted with the work. Garden furniture was removed and replaced, there was absolutely no mess, just a pristine patio. I would recommend you to all my friends and look forward to seeing you next year, if not sooner."
"I would definitely recommend Ultra Power Pressure Washing and will happily use them again in the future. I found the advice given very helpful when deciding what I needed and they were very accommodating with changes on the day, before finishing the job to a high standard and very quickly too!"
"I was very impressed with the professional way that the work was carried out. The result far exceeded my expectations. Many of the residents have remarked upon the beautiful result."
"I was preparing for a large garden party and needed the patio cleaning. I'm pleased I didn't hire a machine, which was what I intended to do, because the way they cleaned the moss and weeds from the patio was amazing."
"My block paving driveway had masses of weeds coming up through the brickwork. Ultra-Power cleaning transformed it back to the condition it was when it was first laid."
"An excellent job; most professional and I was very pleased with the results."
"The finished result hugely surpassed my expectations and I would recommend this Company to anyone."
"I have my own high pressure cleaner but did not have the time to clean my patio this time. The difference between the results they got and the results that I normally get were like chalk and cheese. I would never clean my patio myself again."
"Thank you to you and Barney and Jake you did a fantastic job!"
"Thank you again for such a terrific job.  My husband was overwhelmed!
Please contact me again when you think it is time for another clean.
With all good wishes"