Patio & Driveway Jet Wash Cleaning in Eden Park
Ultra Power Cleaning is your most trusted source for driveway cleaning. We have proudly served London and Kent since 1957, ensuring that you're getting experienced service. With offices in Bromley and London, we are pleased to announce that we serve Eden Park residents, as well!
At Ultra Power, we understand the importance of maintaining an attractive driveway. That's why when you call on us, you can look forward to lasting beauty and appeal. Thanks to our powerful and effective power washing service, your driveway will look bright and clean.
Do You Need Ultra Power Cleaning in Eden Park?
A dirty driveway can be tough to get clean on your own. All sorts of buildup and debris can accumulate, leaving you with all kinds of blemishes, including:
Salt spots
Grease
Weeds
Mould
Dirt
By using powerful jet-washing equipment, we are able to get down deep into your driveway for an incredible level of cleanliness. At Ultra Power, we pride ourselves on our punctual service. When we give you a timeframe for completion, you can trust that is the time that we will get it finished.
As such, you can count on a reliable and dependable service that takes the stress and worry out of hiring someone else to clean your driveway. We are extremely thorough but efficient. Our extensive experience in this industry has allowed us to fine-tune our service to better accommodate our clientele.

Why Opt for Pressure Washing
Pressure washing presents a contemporary solution for dealing with soiled surfaces. There are various reasons our customers choose pressure washing, including the following:
Enhanced Appearance – Your driveway and patio are a focal point on your property as they are the first things visitors and guests see upon entering your property. For a remarkable initial impression, ensuring a presentable driveway is crucial. That's where pressure washing comes in. By effectively eradicating dirt and debris and reversing discolouration, pressure washing completely rejuvenates your driveway, resulting in a renewed overall look for your residence.
Prolonged Longevity – The accumulation of moss and algae on your driveway can detrimentally affect its surface and diminish its lifespan. However, pressure washing can reverse this and enhance the longevity of your driveway. to an enduring driveway. Through comprehensive moss and algae removal, pressure washing safeguards the structural integrity of your driveway, upholding its strength and durability.
Enhanced Safety – A sanitised driveway is a safe driveway. The presence of mould, algae, and moss can render surfaces slippery, posing a hazard for slips and accidents. Pressure washing eliminates these potential dangers, creating a safer driveway for your family and guests.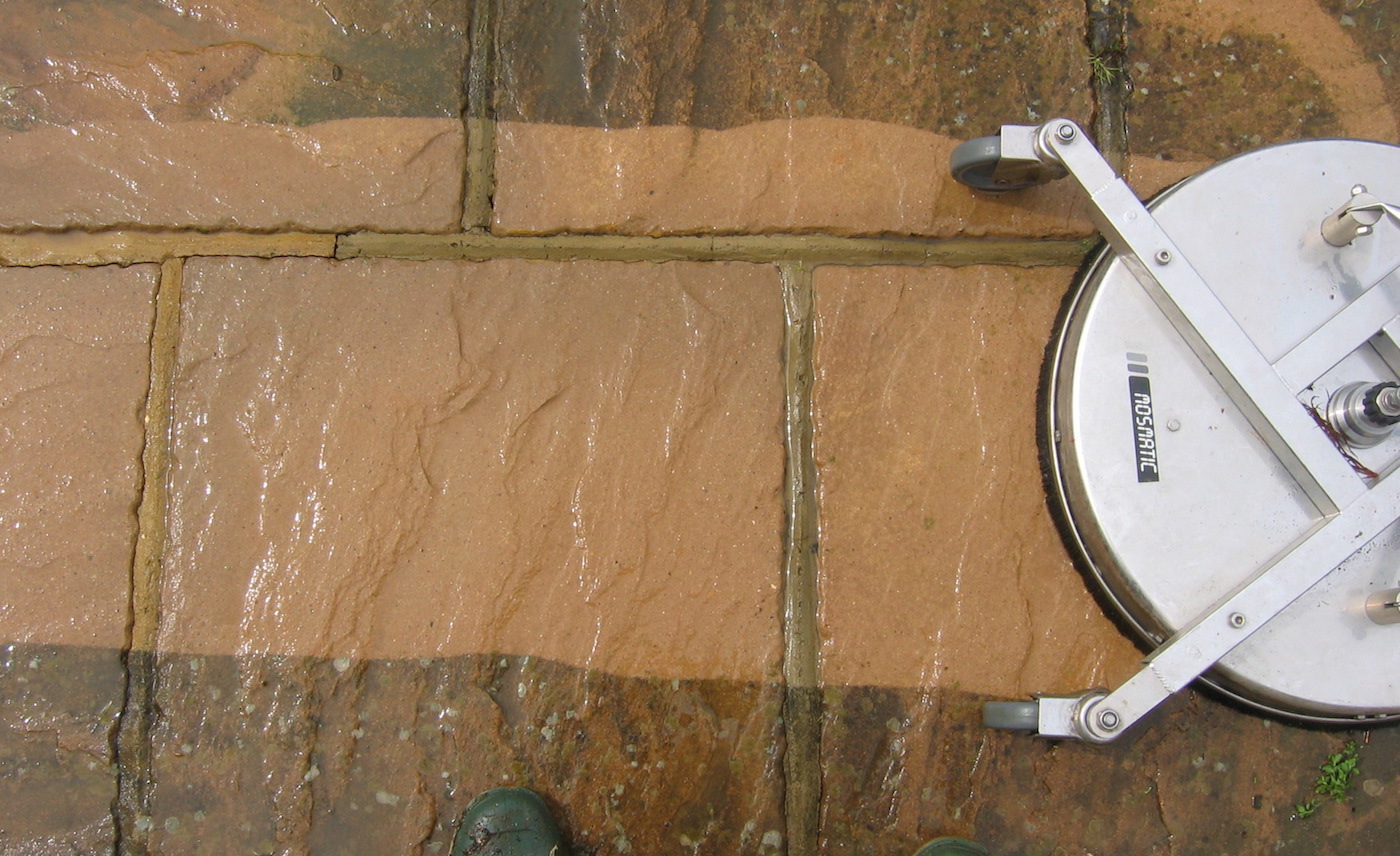 Why Choose Our Jet Washing Services for Your Patio 
Our leading jet-washing services ensure your patio and driveway look as good as new. With dirt dislodged and stains removed, we guarantee a flawless finish. The reason why we are so popular is because we put you first. At the heart of our service philosophy is the simple but impactful gesture of arriving at your property with a substantial 3000 litres of water. This strategic provision eliminates any need for us to tap into your water supply or utilise your electricity. Our dedication to preserving your resources while delivering impeccable results demonstrates our client-centric approach. This approach reflects our ethos of restoring the beauty of your outdoor spaces and enriching your experience throughout the process. 
Call to Schedule an Appointment
Not only do we specialise in driveway cleaning, but we also clean carpeting, garden furniture, and more. If you are ready to experience our high-quality cleaning service, we encourage you to give us a ring today. We will be happy to get you scheduled for an appointment. We look forward to serving you and hope to hear from you soon!
Make Your Driveway & Patio Look Brand New Again!
We bring our own water, so that you don't get charged with a big water bill!
We use a petrol-powered generator so that you don't incur electricity costs!
"Good Morning Bob,
The committee actually got us to wash one of the pathways to compare the difference, but there was no comparison. (Our efforts) has left tram lines everywhere, so being armed with this information now we think we will be getting the go-ahead, but just not sure when. There is no way we can compete with the job you did for us."
"Just to thank you for doing such a good job pressure washing our patio. I appreciated your attention to detail and the way you kept us informed each step of the way. You were mindful of not using our water, we are on a meter, and your truck is equipped with a 1000 litre water tank so we didn't occur the cost of water. Also, your machines are powered by petrol so not using our electric. Thank you. I recommended you to a friend who lives in Keston Park, she has a huge driveway and rear patio, even she received the same attention to detail that was afforded to us. Both of us will be back next spring."
"This is a five star company, I can't recommend highly enough. A brilliant job under Bob's watchful eye. The patio looks like new. From first contact with Sherry in the office to the finish, they were a pleasure to deal with. Thank you once again for a great job and fantastic result!"
"Bob and his team did a fantastic job in jet washing multiple patio areas. They were really professional, friendly and extremely helpful in trying to get white paint of bricked areas where we didn't want it to be. They were also very reasonable with their pricing. I would definitely recommend them to anyone else who wants jet washing."
"We have used this company to jet wash our playground for several years, we would highly recommend them. They are very professional and do a super job. The playgrounds look good as new. We will definitely be using them again next year."
"I have a block paved driveway which does require an annual pressure wash. Fortunately, Bob will send a reminder a couple of months before its due and book me into his busy schedule. The pressure washing team under Bob's direction do an excellent job of cleaning. They are efficient, punctual and leave the area very clean. I cannot praise them enough"
"I have used Bob and his team two years running now and have been extremely happy with all aspects of the service. I had my front driveway and rear patios jet washed. Communication with Bob is very simple via phone and email. The team are reliable, courteous, listen to requests and very obliging in moving pots and patio furniture, and importantly, putting things back in the same place they moved them from for access and cleaning purposes.
Several of my neighbours have seen what Bob has done for me and utilised his services as well.
I have no hesitation in recommending Bob and his Team."
"As I am sure you remember, you came highly recommended to me by a friend. You and your team cleaned my patio and down the side of my house. I was absolutely delighted with the work. Garden furniture was removed and replaced, there was absolutely no mess, just a pristine patio. I would recommend you to all my friends and look forward to seeing you next year, if not sooner."
"I would definitely recommend Ultra Power Pressure Washing and will happily use them again in the future. I found the advice given very helpful when deciding what I needed and they were very accommodating with changes on the day, before finishing the job to a high standard and very quickly too!"
"I was very impressed with the professional way that the work was carried out. The result far exceeded my expectations. Many of the residents have remarked upon the beautiful result."
"I was preparing for a large garden party and needed the patio cleaning. I'm pleased I didn't hire a machine, which was what I intended to do, because the way they cleaned the moss and weeds from the patio was amazing."
"My block paving driveway had masses of weeds coming up through the brickwork. Ultra-Power cleaning transformed it back to the condition it was when it was first laid."
"An excellent job; most professional and I was very pleased with the results."
"The finished result hugely surpassed my expectations and I would recommend this Company to anyone."
"I have my own high pressure cleaner but did not have the time to clean my patio this time. The difference between the results they got and the results that I normally get were like chalk and cheese. I would never clean my patio myself again."
"Thank you to you and Barney and Jake you did a fantastic job!"
"Thank you again for such a terrific job.  My husband was overwhelmed!
Please contact me again when you think it is time for another clean.
With all good wishes"